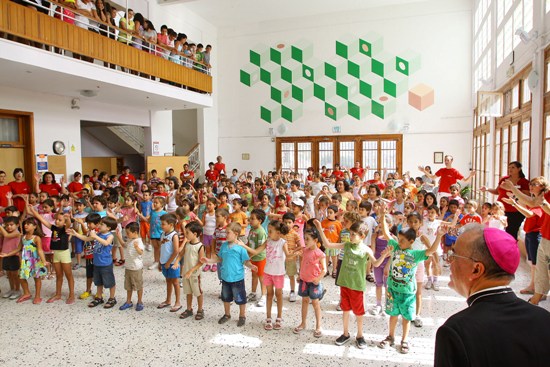 Thursday 29 July 2010 was a special and memorable day for Kidstart Summer Club, which is run by Vista Coop at St Theresa Junior Lyceum in Mriehel, who welcomed H.E. Archbishop Paul Cremona.

Around 200 children between 8 and 11 years of age gave a warm welcome to the Archbishop with songs and purchases of food for families in need which they gathered during that week. The Archbishop was welcomed with the song "He's got the Whole World in His Hands". This was followed by a lively discussion with the Archbishop, during which he spoke about his childhood experiences as well as his experiences as an Archbishop.

Mgr Cremona was also invited to visit the Minis classes where children aged between two and three years showed him the pets they keep in class to learn how to appreciate the environment better. Youths aged between 13 and 15 years of age had the opportunity to discuss with the Archbishop various questions of particular interest to them.

The Archbishop also met children between 4 and 7 years of age, who performed sweet 'action songs' that they had prepared during the week.

The Archbishop also had a brief meeting with the Administration and members of the Vista Coop who thanked him for is interest and for spending his time with them.
Click on the photo to enlarge. The photos of the Archbishop's events may be purchased from PHOTOCITY, Valletta. Tel: 21236723. Email: info@photocityonline.com