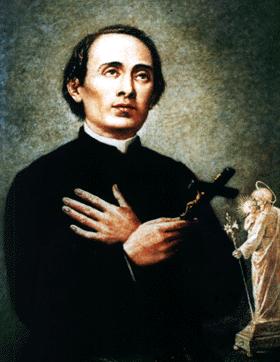 The feast of Blessed Nazju Falzon will be celebrated on Thursday, 1st July 2010.
Mass will be celebrated at the Franciscan Church, Valletta, the burial place of Blessed Nazju Falzon, as follows : 7.15am, 10.00 am (for the intention of the sick), 11.00am.  At 6.15pm, there will be a concelebrated mass, with the participation of the members of the Catholic Enquiry Centre.  Following every mass, there will be prayers for the sick and the infirm.
At the Jesuits Church, Valletta, on Wednesday 30th June, at 6.00pm, a rosary will be prayed before the Blessed Sacrament.  This will be followed by a Mass (including homily), prayer and veneration of the relic.  The church is the place where Blessed Nazju Falzon set up a Congregation, the members of which offered their services and prepared more than 650 people for baptism.  On the feast day, Thursday 1st July, mass will be celebrated as follows: 6.30 a.m, 7.00 a.m., 8.00 a.m., 9.00 a.m., 10.00 a.m., 11.00 a.m.  At noon, mass will be celebrated in English, to cater for English-speaking Catholics and Maltese persons married to foreigners.