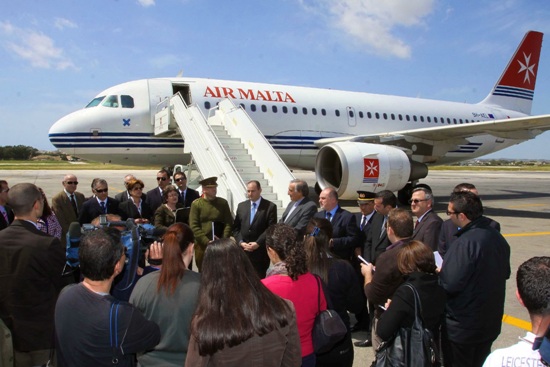 On Wednesday, 7th April, 2010, details were announced regarding the arrival and departure ceremonies of Pope Benedict XVI in Malta during a press conference held at the Malta International Airport (MIA).
A group of entities, amongst them MIA, the Office of the Manager, Airport Security (OMAS) and Air Malta along with the Armed Forces of Malta will be involved in the setting up and running of the ceremonies.
The Pope is expected to arrive at 5.00pm and will be welcomed by The President of Malta, His Excellency George Abela and Mrs Abela, Prime Minister Lawrence Gonzi and Mrs Gonzi, His Excellency Mons Paul Cremona OP, Archbishop of Malta, as well as Mons Mario Grech, Bishop of Gozo. The President will then deliver a speech of welcome, followed by an address by the Pope.
The departure ceremony is expected to commence at 6.40 pm where the Pope will be saluted by the National anthems of Malta and the Vatican City. The President of Malta and His Holiness will then address those present, afterwards His Holiness will board flight KM1950 and depart at 7.10pm. The flight number was chosen to highlight the fact that Pope Benedict XVI is visiting Malta on the occasion of the 1950th anniversary of St. Paul's Shipwreck in Malta.
For more information on the Pope's visit to Malta, visit www.popemalta.org
Click on the photo to enlarge. The photos of the Archbishop's events may be purchased from PHOTOCITY, Valletta. Tel: 21236723. Email: [email protected]